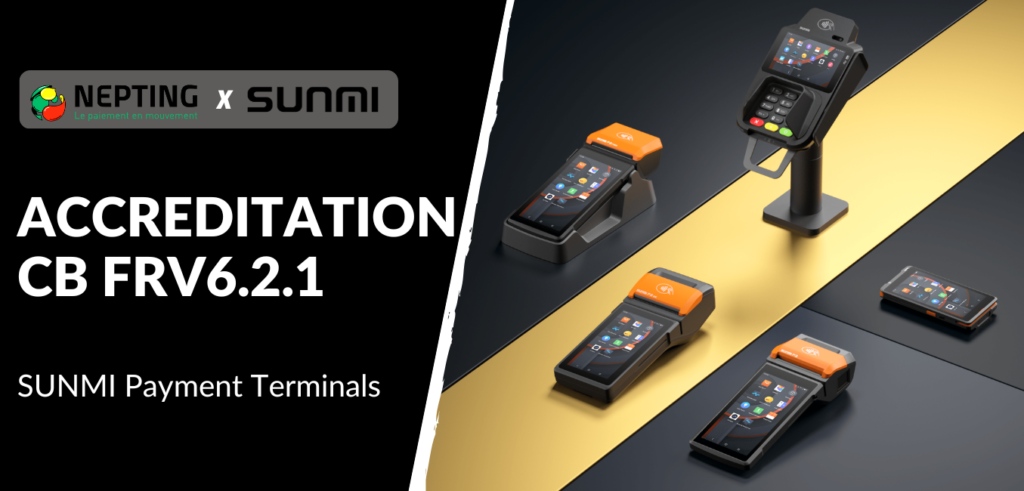 In summer 2022, Nepting, the first provider of payment solutions on Android terminals in France, obtained CB FRV6.2.1 approval for the SUNMI P2 mini.
Thanks to the "COMMON KERNEL" technology developed by SUNMI, which consists of using the same L2 kernel on its entire range of terminals, Nepting has obtained approval for the solution by extending the range of the NEPSA-SUNMI P2 PRO, P2SE and P2 Smartpad solutions according to the FRV6.2.1 standard.
This important achievement allows the French payment market to benefit from SUNMI terminals to cover a vast majority of the needs of merchants of all sizes, restaurant owners and mobile service professionals:
P2 Mini: Compact terminal without printer with the capabilities of a professional PDA with or without scanner and secure payment in one product, ideal for order taking and delivery.
P2 Pro: High-end terminal with printer, 6″ screen, 2GB + 16GB memory, high performance
P2SE: Mobile terminal with printer for economical use, designed to replace traditional terminals with a proprietary operating system by an Android solution that is easier to deploy and operate.
P2 Smartpad: the most advanced pinpad on the market for integrated payment solutions.
"Thanks to our partnership with Nepting, Sunmi can position itself as a major player in the French payment world. We want to become the reference in Android platforms for the convergence of business and payment applications, and to accelerate the transition of payment to Android thanks to our wide range of particularly attractive terminals and our simple, high-performance operating environment"

says Franck Khalifa, Sales Director for France and the Benelux.
ABOUT NEPTING :
Nepting is a developer of an omnichannel payment platform and provider of associated payment services. NEPTING offers a complete range of payment solutions (mPOS, Softpos, light TPE, WebInStore, retail, automat, e- commerce,…) around its unique, new generation, cloud-based centralized Acceptance System, to meet the needs of all types of shopping experiences.