Convergence and integration : We can all see in commerce and services business advancement emerging new use cases created by consumer expectations (individual interaction, frictionless experience between their digital and physical world), efficiency needs from business owners, and increasing scope of applications dedicated to digitalization of activity.
Those application bring more and more functionalities, in a holistic approach of the point of sales management (cashier, stock management, shift and personnel management, on-line orders, …). We can also witness convergence of payment and business applications, or digital and physical experiences (on-line/on-site, click and collect, showrooming, web catalog, …).
SUNMI's role in this (r)evolution is clear: be the platform of choice for this convergence. Our unique position as a major actor of digitalization by Android, our extended product portfolio, from deigital cash registers to rugged mobiles devices, with or without printer, including secure payment terminals, allows SUNMI to connect all stakeholders in a wude ecosystem including application developers, solution integrators and operators, financial institutions, distributors and field services provideds, in a consistent and shared tchnology environment.
P3 MIX has been designed with a single goal: offering a tool integrating all the elementsessential to create a point of sales or point of services solutions able to take up the challenge of an ever more technology driven future.
Why a Tablet?
Large screen allowing to operate with comfort and efficiency richer and richer applications, improve customer engagement, and leverage features anywhere with mobility.
Why an integrated printer?
Some consumer still request a ticket, some use cases still require to print.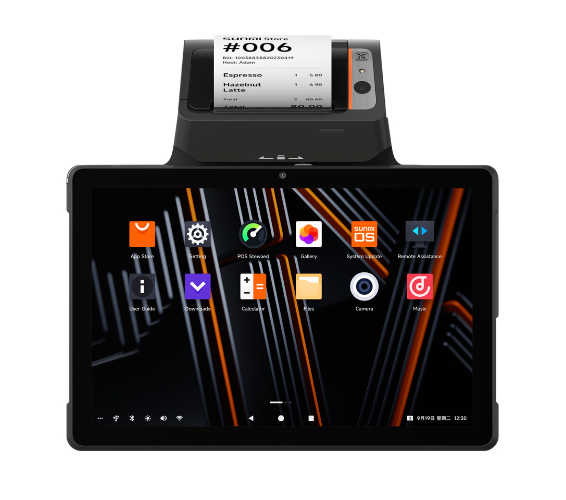 Why a PCI certified device?
Consumers and merchants will keep on using chip and pin, whatever is the rise on contactless based payment. Existing certified and integrated payment solutions can be immediately deployed, providing all payment methods, leveraging legacy and resolving some existing issues with SoftPOS.
Desktop or Mobile?
With its rotating base providing multiple connections required for a Point of Sales solution, and its high capacity battery, P3 mix allows several hours in mobile usage while offering a compact and complete desktop solution. Carrying the device is made easy and effortless by the ergonomic design of the handle. P3 Mix qualcomm processor and latest version of Android (Android 13) and large memory allow support of the most advanced and complex desktop applications, today and in the future.
P3 MIX offers a new ergonomy at point of sale, combining Desktop and Mobile usage to leverage new business digitization opportunities offered by the POS ecosystem.
SPECIFICATIONS
10" HD screen
Integrated printer 58 or 80 mm
Chip, Magstripe and contactless card readers, PCI 6 certification
Professional scanner 2D
Qualcomm Hexacore 2.4 GHz processor
Android 13
Memoire 4GB (RAM) + 32GB (Flash)
Battery 19 Wh
Connectivity: 4G/Wifi Dual Band /Bluetooth BLE
Rear and Front Camera
Interested in our solution?