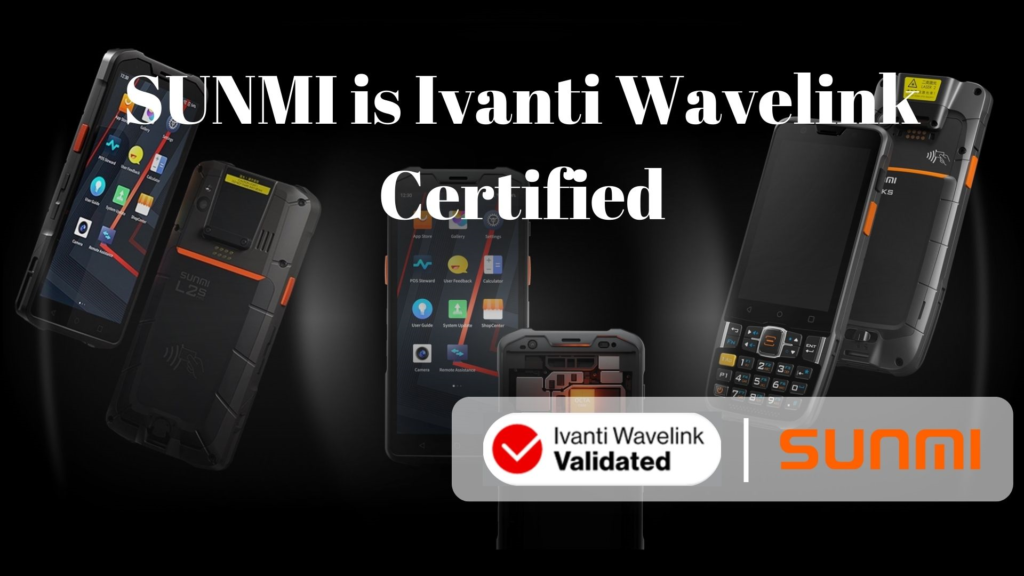 Sunmi received the Ivanti' Wavelink Certification for the Velocity platform.
This program allows device manufacturers offering solutions for the supply chain and warehousing industries to quickly validate the compatibility of their products with the Ivanti Wavelink software platform. The platform facilitates device and wireless infrastructure management, terminal emulation and mobile application development, without the need for operating system changes. Customers of Sunmi mobile devices, validated by Ivanti, then benefit from easy access to efficiency-enhancing mobile solutions.
---
SUNMI GMS devices validated by Ivanti Wavelink
Ivanti Wavelink certified Sunmi GMS devices, including the Sunmi L-Series composed of L2s Pro, L2H and L2Ks. These L series products are handheld computer than can read barcodes, RFID tags and contactless cards. They are helping to collect and manage a large amount of data across supply chain operations.
L2s Pro: The pro runner – Highly protected handheld computer, for professionals requiring fast & seamless scanning. Featuring a new CPU platform with WiFi and 4G-LTE, the L2s Pro represents the cost effective solution for wireless tasks in manufacturing and warehouse environments, covering also outdoor applications for transportation and logistics.
L2H: The ultimate performance – Leading-edge, robust handheld computer leveraging a powerful platform for intensive use. Fully capable to run the most demanding software application with a premium CPU platform, L2H improves business activity in every data collection task for indoor & outdoor use with continuous operations via WiFi 6 & LTE Cat 13 CA.
L2Ks: The ultra rugged – Fully rugged handheld computer empowering business productivity in any harsh environments. Thanks to the physical keypad with a comfortable ergonomics, it allows any data input also with protection gloves focusing to special applications in heavy duty logistics and cross docking operations.
The certification also applies to Sunmi V -Series products. It consists of handheld professional mobile devices with integrated printer and wide screen. The V-Series has become well-known throughout Sunmi's history. Two of its products are now Ivanti Wavelink certified: the V2s and V2s Plus.
V2s: The New Reference – High-performant and polyvalent solution optimized for extended usage throughout the day. With a lightweight and ergonomic design, the V2s boosts food-delivery tasks and allows every sales activity with a high speed 58mm printer for receipts and labels.
V2s Plus: The advanced modern commercial device for retail and outdoor ticketing. Featuring a high speed 80mm printer, V2s Plus offers a unique tool for mobile workers and field sales operators with WiFi & 4G-LTE.
This Ivanti Wavelink Validation on multiple Sunmi GMS devices is a confirmation of the quality of Sunmi products and how easy it is to integrate.
---
About Ivanti Wavelink
Ivanti Wavelink is an American company that provides enterprise mobility solutions that improve supply chain efficiency and boost employee productivity. The company innovates in business-critical mobile device management, wireless infrastructure management, terminal emulation, voice enablement and mobile application development software.
Ivanti Velocity is a solution offered by Ivanti Wavelink, specifically designed for enterprise mobility solutions. It is a platform that enables businesses to optimise telnet and web-based mobile applications for Android and Windows-based devices. It enables workflow automation, includes pre-built templates and components, and integration capabilities with core enterprise systems (ERP, CRM, WMS, etc.) and databases.
Velocity application can streamline workflows, improve productivity, and enhance overall efficiency in industries such as retail, manufacturing, logistics, and healthcare.