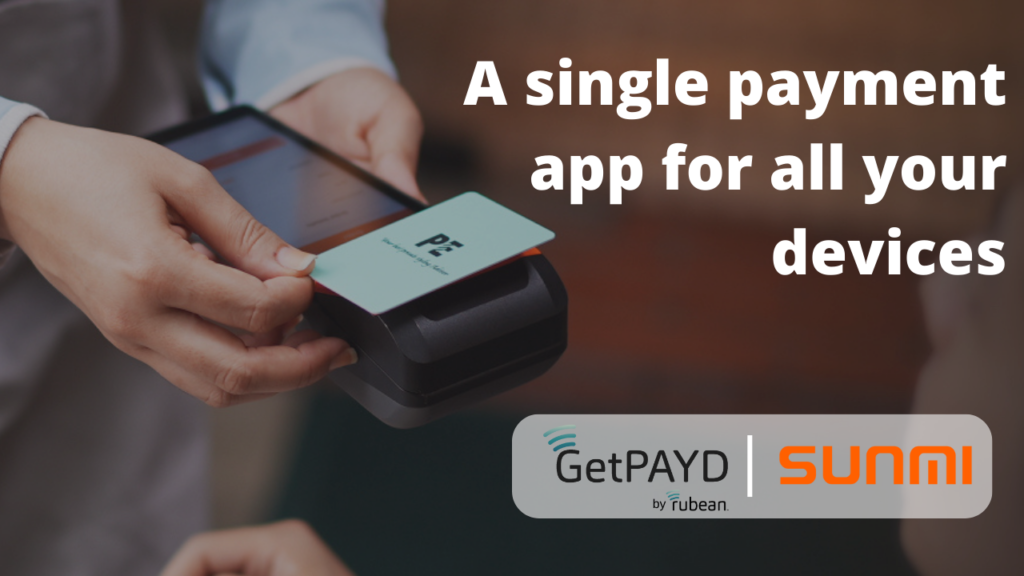 GetPAYD by Rubean is a SoftPOS solution that offers Android users the option of cashless acceptance directly via the mobile device they use for scanning and professional applications. With Rubean's solution, traditional payment terminals can be replaced to support daily use and payment on the same device.
---
A single payment app for all your devices
GetPAYD by Rubean AG enables any merchant with an Android device to download the application and start taking contactless payments immediately. The tap-to-pay function also allows for quicker more efficient transference of payment information.
GetPAYD is giving a safe, practical and inexpensive way to accept card payments anywhere.
GetPAYD by Rubean allows to deploy a secure and efficient payment software that gives the ability to accept contactless card payments. This solution operates as a closed application that talks seamlessly with payment systems and to the Sunmi devices, providing quick feedback of a successfully received payment. Together, the application and the device allowed to optimize the time couriers spent during the final steps of a delivery.
---
Rubean and SUNMI partnership
Rubean is a German multinational fintech company. Rubean AG has been an established software manufacturer in the financial sector for 20 years. The company is now growing with the development of innovative solutions for mobile payment. This includes the mobile point-of-sale terminal solution PhonePOS, which was developed in cooperation with CCV. For this year on, the Rubean GetPAYD solution is also available on the Sunmi GMS certified devices V2S, V2S Plus, L2H and newly launched L2S Pro.
Sunmi is very proud to be able to offer to customers throughout Europe a very advanced and high performance SoftPOS solution such as Rubean's, on the top of its full range of traditional payment terminals. It provides Sunmi with a unique position in the payment market with ability to support any type of payment project with Sunmi platform and terminals.
Once GetPAYD is installed and activated, the delivery person, the waiter, the sales associate, the mobile worker use the Android device to replace bulky and often unavailable handheld terminals at the point of sale, reducing time and customer transaction delays, enhancing consumer experience while boosting productivity and simplifying operations.
GetPAYD also allows business solutions providers and professional applications developers to add payment in their offer with minimal integration effort and a greatly simplified process. This is at the heart of Sunmi vision to create a platform enabling the digital ecosystem to create value by easing application interoperability and integration.
---
GMS certification on Sunmi Devices
Sunmi GMS certification on L2H, V2S and L2S pro guarantees extensive inter-operability between Devices and Services within the Google ecosystem. It ensures the security and compliance of Android based SUNMI OS for businesses leveraging Google Environment, Services and Apps in their solution.
Interested in our combined solution?