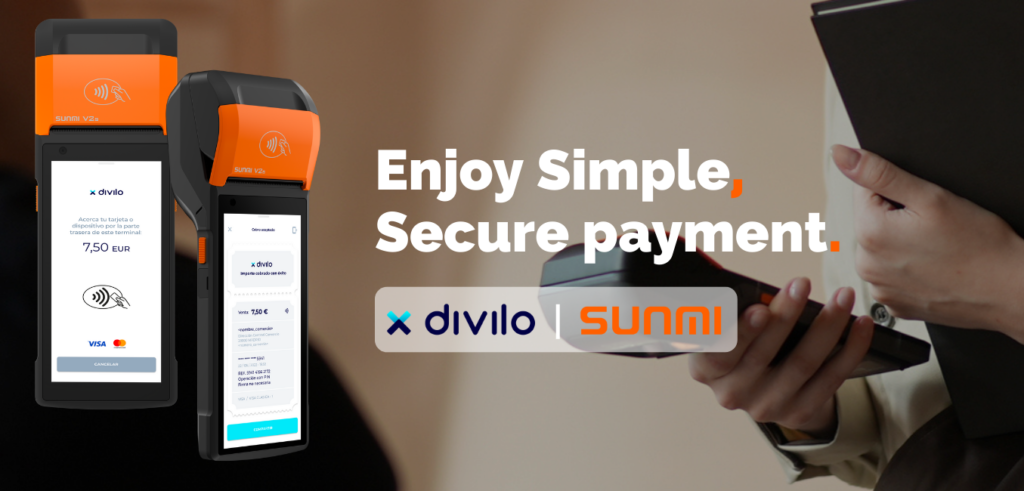 Divilo has integrated its SoftPOS solution Diveep in the SUNMI range of Android 11-based mobile devices featuring GMS (Google Mobile Services) certification. Thanks to this integration, merchants in the Spanish market now have access to an all-in-one solution that combines robustness and performance of a mobile point-of-sale and card payment acceptance through contactless technology.
Divilo, enjoy simple, secure payments and card acceptance
Divilo is a Spanish payment institution providing an all-in-one solution in payment acceptance and accounting tools for companies, SME's and freelancers with the most innovative technology. Divilo is officially licensed by the Bank of Spain and a Principal Member of VISA. Focusing on speed, efficiency, and customer service, Divilo helps businesses through new and innovative payment channels to maximize sales and improve customer experience.
Sponsored by VISA, Divilo has launched on the Spanish market in January 2022 their SoftPOS solution Diveep, allowing any GMS certified android devices with NFC reader to accept payments. Accepting all card payments (including cellpones, watches, etc…) from major card brands (VISA, Mastercard, Amex), Divilo's SoftPOS solution empowers merchants with a new, simple, secure, and advanced technology.
---
Divilo and SUNMI V2s, the ultimate combined solution
The combined solution SUNMI V2s and Divilo software meets a growing demand from merchants today for a simple and mobile tool accepting payment. With its integrated printer, the V2s featuring SoftPOS technology allows to fulfill a variety of use cases requiring instant ticket printing, data capture and on the spot payment acceptance. The customer journey is now reinvented, no longer need to go to the cashier, the payment is done where the consumer is. This allows merchants to manage their sales faster, improve the customer experience and build customer loyalty. A versatile and secure solution guaranteeing a simplified onboarding process for merchants and ease of use and operation.
---
SUNMI, a perfect environment to create value with SoftPOS
SUNMI offers a wide range of POS systems recognized for their performance, quality and design and allowing SoftPOS to be exploited on different form factors. But on top of that, SUNMI provides a complete ecosystem based on Android and SUNMI OS, allowing developers and solution providers to grow. Android has over time proven to be the appropriate platform for the digitization of businesses for its openness, simplicity and stability. Today, SUNMI continues to expand its partnerships with important SoftPOS players to offer certified and secure solutions for merchants.
Interested in our combined solution?