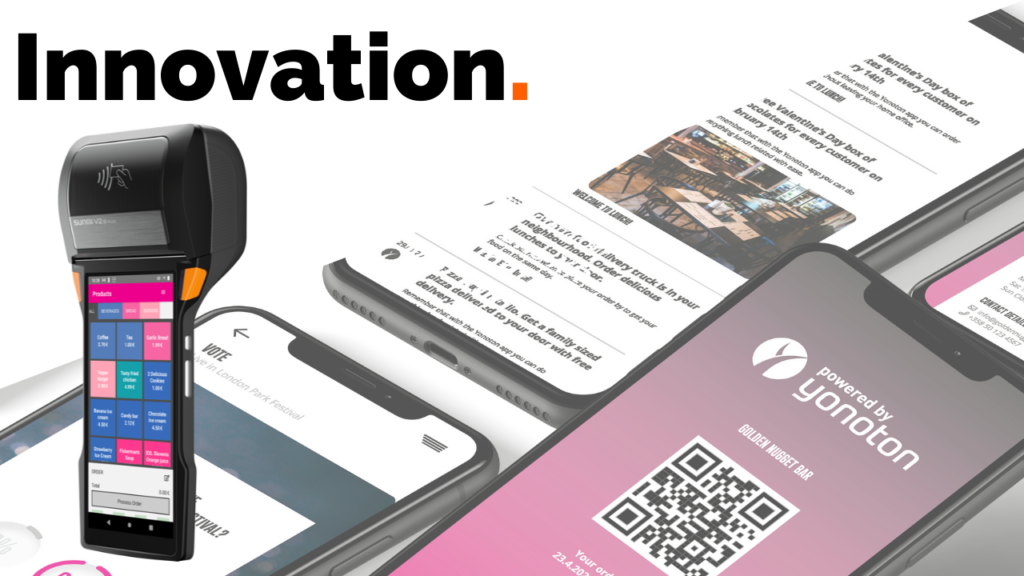 When SUNMI partners join forces to create an innovative all-in-one solution
Yonoton completes its SUNMI Digital POS offer by introducing softPOS technology in the latest SUNMI GMS-certified devices. Yonoton and Softpay (that we introduced here), have joined forces to integrate softPOS into Yonoton digital platform on SUNMI's V2s and V2s Plus, creating an Android mobile ordering and ticketing solution integrating contactless payment.
SoftPOS technology, which has the technical and operational potential to become a major payment solution for businesses, is adapted to all types of activities and represents for all merchants an ease of use and operation.
Today, SUNMI provides eligible solutions and a complete ecosystem enabling partners to create value with SoftPOS. SUNMI Business IoT is a platform creating interactions, links and value between partners – Yonoton and Softpay are a prime illustration.
---
Yonoton, the SaaS platform working on SUNMI devices
Yonoton is a Finland based scaleup company that focuses on modern technologies when it comes to digital payments and maximizing revenue for its customers.
Yonoton has built a versatile SaaS platform for digital ordering and purchases for the hospitality and entertainment industries. The Powered by Yonoton omnichannel platform provides a true one-in-all solution for businesses who want to take advantage of selling their products in several sales channels.
The biggest asset of Yonoton's digital platform is that it enables its B2B clients to manage everything simply from one Yonoton backend-system, regardless of the sales channel. Yonoton provides its customers powerful revenue-driven services from company branded apps to web ordering, Point-of-Sale software, self-service-kiosks, and other self-service solutions.
---
SUNMI and Yonoton combined solution
Yonoton leverages SUNMI mobile and digital POS to offer hotels, restaurants, and theme parks a powerful combined POS and software solution providing an optimized point of sale experience for staff and end customers in the Nordic countries.
SUNMI Android devices and the Powered by Yonoton platform is a complete ordering and management interface including multiple functions for the proper execution of tasks such as reservation and management of tables/tickets/rooms as well as management of loyalty programs, gift cards or reporting services. A Modern tool for a fully improved digital experience!

Let's see how it works with Sodexo
Sodexo, world leader in Quality of Life Services, uses the combined SUNMI T2s and Powered by Yonoton solution. Sodexo serves more than 100 million customers daily through 30,000 restaurants (such as workplace canteens, corporate restaurants, universities, hospitals) in over 64 different countries.
Yonoton has helped Sodexo to digitize its catering operations in the Nordic countries. For this, Sodexo is using Yonoton's full-fletch omnichannel solutions based on the SUNMI T2s for self-service POS and self-checkout station.
The combined solution allows Sodexo to operate and manage everything from pricing to inventory, marketing campaigns, communication, engagement programs and more.

Interested in our combined solution?